Would you like to have a beach bonfire while you are visiting the Destin area? This post will give you all the information you need to know to host your own including where fires are allowed, the rules and regulations, approved fire pits, and how to get a permit. I also provide information about companies who provide this service for you if you want to leave the setup and details to someone else.
There's something magical about watching the sunset with family and friends by the flickering warmth of a bonfire and the sound of crashing waves. It's the reason why so many visitors have this experience on their Emerald Coast Bucket List.
Destin is located in Okaloosa County where fires on the beach are strictly prohibited. But just to the east of Destin starts Walton County which is the only county on the Emerald Coast (and one of the only counties in Florida) where it is legal to host your own beach bonfire.
Where to Host Your Beach Bonfire
In order to have a beach bonfire in Walton County, you must be on a public beach (or a private residence with written permission from the homeowner).
Walton County contains 26 miles of beautiful beaches stretching from Miramar Beach and running the entire length of Scenic Highway 30a to the Rosemary Beach/Inlet Beach area.
Below is a map of Walton County so you can see where it starts in relation to the main area of Destin (Click to view the map larger).

The closest public beach access point to Destin where you can have a bonfire is in Miramar Beach at the Public Beach Access #49 at Pompano Joes Restaurant. This public beach access spot has a large parking lot with public restrooms and it's a short walk down to the beach from your car.
Later in this post, I've provided a list of the other Walton County Beaches I recommend for hosting your own bonfire if you want to find something a little less crowded.
What you Need to Host Your Own Beach Bonfire in Miramar Beach or 30A
1. Permit
In order to have a beach bonfire in Walton County, you must get a permit. Don't be scared by the thought of having to get a permit. This is the easy part!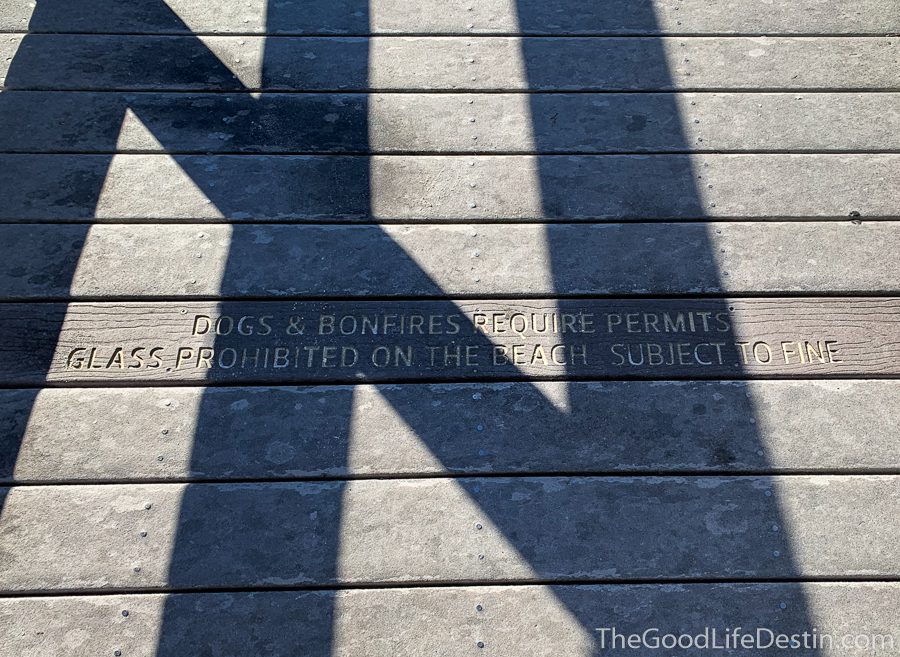 To obtain your temporary beach bonfire permit, simply go to the South Walton Fire District at 911 N County Highway 393 in Santa Rosa Beach, Florida between the hours of 8am – 4pm Monday through Friday to apply.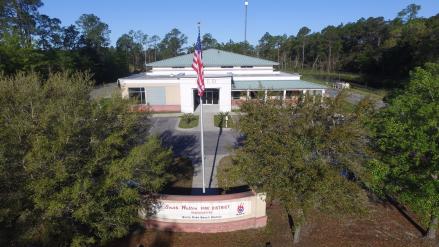 If you are out of town and would like to get your permit in advance, you can call them at 850-267-1298 and they can usually assist you with a PayPal option.
When you go to obtain the permit, you must know when and where you are planning to have your bonfire. The permit will only be good for that 24 hour span of time you apply for.
The person obtaining the permit must be 18 years old and remain present during the entire bonfire with the permit on hand.
Bonfire permits are non-refundable and rainchecks are not allowed even in the event of inclement weather.
The cost of the permit is $50.
2. Fire Pit
It is required that you have a contained metal fire pit for your beach bonfire. Your fire pit must be no larger than 4 feet in diameter and must have an attached bottom. The fire cannot be built directly on the sand.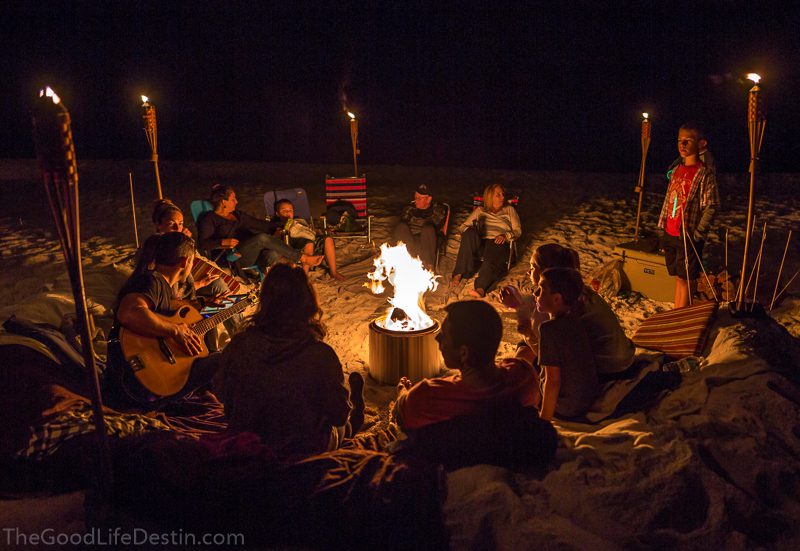 I use a Solo Stove Bonfire Fire Pit
 for beach bonfires (my solo stove is pictured in the image above at a recent bonfire some of my friends put together). The Solo Stove is awesome because it's designed to have a nice big flame with little to no smoke due to the innovative design. It's a very enjoyable fire experience and I highly recommend it.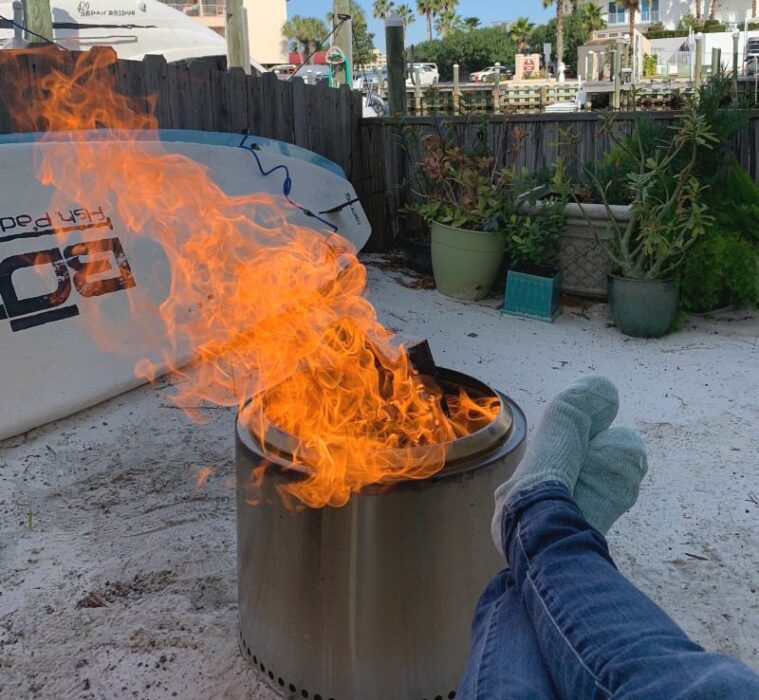 I love my Solo Stove and get a lot of use out of it but if you are looking for something for a single bonfire use, there are some cheaper options on Amazon as well.
This Fire Sense Roman Fire Pit
 is only $60 and also meets the requirements for an approved fire pit. You could also stop at Walmart or Home Depot in Destin and probably find something there that would work.
3. Supplies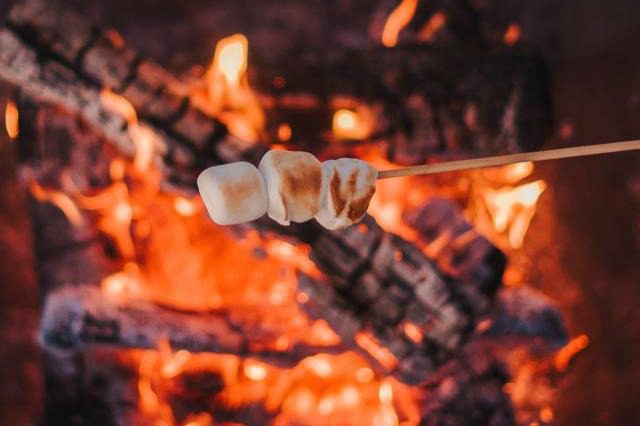 Food
Bring anything you would normally grill on the fire such as hot dogs or you could do a more elaborate picnic dinner that you set up on a folding table. Don't forget the smores supplies and a stick for roasting the marshmallows.
Drinks
You are allowed to have both alcoholic and non-alcoholic drinks on the beach as long as there is no glass.
Chairs
When my friends and I do a beach bonfire, we ask that everyone bring their own chairs. That way you will have less stuff to carry down to the beach. Blankets and pillows can work fine too.
Firewood
Bring plenty of firewood as this is the one thing you definitely don't want to run out of.
Tiki Torches
TIKI Torches
 are cheap and add extra ambiance and soft lighting to your beach bonfire party.
Blog Source: https://thegoodlifedestin.com/beach-bonfire/
Meet the writer: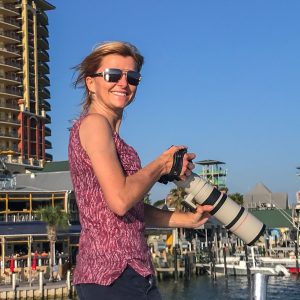 My name is Sarah and I am the writer, photographer and web designer of https://thegoodlifedestin.com . My goal here is to share information that will help you plan the perfect visit to the Emerald Coast of Florida. I hope you enjoy reading these articles as much as I enjoy writing them for you.Questions/Inquiries: Email: sarah@thegoodlifedestin.com
---